[av_textblock size=" font_color=" color=" av-medium-font-size=" av-small-font-size=" av-mini-font-size=" custom_class=" admin_preview_bg="]
MAKING TAX DIGITAL from 1ST APRIL 2019
Making Tax Digital (MTD) is an HMRC initiative designed to make sure the UK tax system is effective, efficient and easier for taxpayers.
This massive change for business (MTD) begins on 1 April 2019 with MTD for VAT. From that date, VAT-registered businesses above the threshold of £85k will have to keep digital records and submit VAT returns using compatible software.
MAKING TAX DIGITAL TIMELINE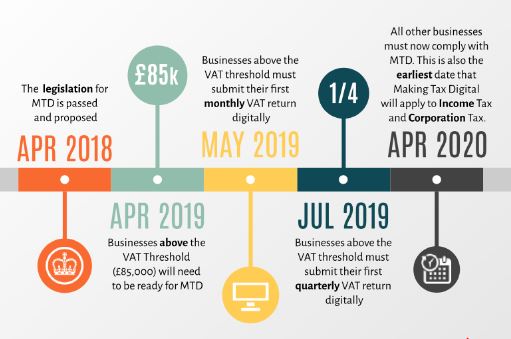 Other components of Making Tax Digital. Such as income tax and corporation tax, have been placed on hold until April 2020 at the very earliest. Check this resource hub for updates on the latest developments, straight from HMRC
Let Onyx Accountants take care of of this from start to finish because we can guide you through the process and this will make sense of all of that useless jargon for you!
[/av_textblock]